Selvatica
Making Memories
We are adventure, energy, elegance.
An explosion of adrenaline, strong emotions in constant evolution. Without fear of daring, trying, failing and trying again.
Always movement in search of the most harmonious forms, of sensuality and audacity, of confidence and femininity.
We experiment with new textures and colors dictated by new horizons, motivating those who follow us to explore, try and make their dreams come true.
THE IDEA
(Not) just a dream
Selvatica was born in 2017 from Giulia Calcaterra's desire to express her passions, her personality and her talent in a project that really belonged to her.
Thus Giulia begins to experiment with this new path made up of sketches, ideas, fabrics and colours, inspired by the sea, her travels and wild nature.
THE REALIZATION
First step
Giulia invests time and energy in the realization of her dream: she sets up a team of professionals and personally follows the production of the first Selvatica bikini collection. It's called Wild Soul and it's irreverent, minimal and bold.
THE PROJECT
Selvatica is real
After the success of the first collection, Giulia founded Selvatica and the brand soon became very popular among girls who, like her, wanted to travel, make their dreams come true, feel the adrenaline on their skin and enjoy life to the fullest!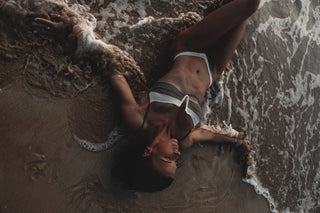 SELVATICA
Today
Today, Selvatica is a brand known all over the world for its uniqueness and for having been an inspiration to many girls who have decided to live the life they want, off the screen, free to be themselves and to express themselves with courage and passion .
 INNOVATION
Our gaze peers beyond the horizon: we are constantly looking for new challenges, shapes and ideas.
PERFORMANCE
We are constantly committed to improving our products to meet the needs of those who have believed and continue to believe in our project.
ROOTS
We remain faithful to the origins and to the ideal from which Selvatica was born: the freedom that each of us must have to express our own personality and character.
SUSTAINABILITY
Step by step, we are moving towards ever greener and more sustainable worlds, with growing attention to materials and the environment.
Do you have an online store or shop?
Become a Selvatica ritailer!